TECHTEXTIL 2017 FRANKFURT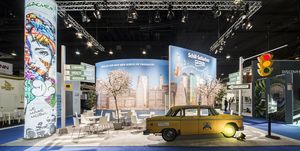 With 1,789 exhibitors and over 47,500 visitors from a total of 114 countries, a record attendance record was repeatedly broken at the Frankfurt Exhibition Center from 9 to 12 May. The industry met at Techtextil and Texprocess to gain information about the most innovative products in the field of technical textiles and the latest processing technologies.
Schill + Seilacher also presented itself to prospective and existing customers to introduce their current range of nonwovens, technical textiles, fiber preparations and chemicals for chemical fibers.
Today, about 1,000 employees worldwide stand behind the success of the foundation-owned Schill+Seilacher group. Traditional values and investments, guaranteed through a high degree of research and development activities, secure our dynamic growth.