TAROPAK / LOGISPAK 2016 POZNAN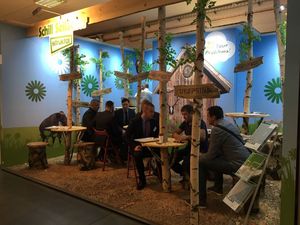 TAROPAK - the international fair for packaging and labelling is the most important fair for the industries of packaging, labelling, stock management and logistics in Eastern Europe and took place in Posen the 26. – 29.09.2016. Thousands of visitors from the whole Eastern European region visited more than 400 exhibitors from 25 countries. This year's fair comprised paper-, glass- metal-, and plastic packaging, as well as special packaging used in cosmetics and pharmaceutical industries.
As an outstanding eye catcher, the Schill&Seilacher-exhibition stand attracted an interested international audience. The main field of interest was the sector of transport security and anti-skid packaging. Visitors were also very interested in the topics of hydrophobicity and grease barriers needed for foodstuff packaging. In many cases, the feasibility of current application devices was discussed in detail with the customers. This proves a serious interest of these customers. As a general impression, a very interesting fair remains that shows the developing potential in the Eastern European market.
Today, about 1,000 employees worldwide stand behind the success of the foundation-owned Schill+Seilacher group. Traditional values and investments, guaranteed through a high degree of research and development activities, secure our dynamic growth.