Schill+Seilacher Currently Produces Disinfectants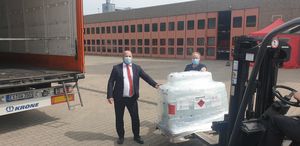 Since today the Böblingen chemical enterprise provides the district with disinfectants
Due to corona pandemic, the demand of disinfectants rapidly increases. Therefore, it was self-sufficient for the long-established chemical enterprise Schill+Seilacher GmbH, to comply with the request of a regional pharmacist to start production of disinfectants. Now the medium-sized company already produces disinfectants at two of its three factories in Germany. Besides the one in Böblingen also the Saxon Schill+Seilacher factory at Pirna started producing disinfectants.
"First we just started with small quantities for our company requirements and without automatic support." reported Mirco Arnd, factory manager of Schill+Seilacher GmbH, Böblingen. "Since today, however, we produce larger quantities at our mixing plant with official approval. Schill+Seilacher especially provides medical and social facilities at the Böblingen district.
They produce a disinfectant called "Desinfekt OFL" in accordance with the formulation of World Health Organization (WHO). Additionally, thanks to the glycerine portion Desinfekt OFL is also skin-friendly. "We provide our customers with disinfectants at a fair price", reported Arndt. "This is our small and regional contribution in fight against the pandemic. For production of Desinfekt OFL we postponed parts of our own production in order to accomplish capacities for it.
Schill + Seilacher preferably delivers Desinfekt OFL in 5 liter units to hospitals, special homes for elderly, fire departments, doctor's practices as well as social facilities. "We will start with about 5 tons oft he disinfectant. As one of the required components for production is in short supply recently, we are only able to produce and provide a limited quantity. As soon as further supplies are guanranteed, we will increase production. We have already a lot of inquiries from all fields.", said Mirco Arndt.
Today, about 1,000 employees worldwide stand behind the success of the foundation-owned Schill+Seilacher group. Traditional values and investments, guaranteed through a high degree of research and development activities, secure our dynamic growth.