New trainees get it on at Schill+Seilacher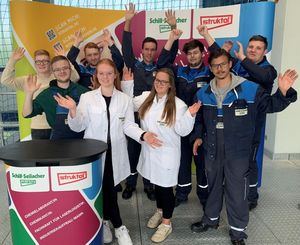 On September 1, 2019, nine trainees started their 3 to 3.5 year vocational training at Schill + Seilacher GmbH in Böblingen. The new young chemists, chemical laboratory technicians, warehouse logistics specialists and an industrial clerk are motivated for the future and employed by qualified employees in companies.

The acquisition of new employees for the growth of the company and the dual training is a central point for the further development of the location.

Founded in 1877, the traditional company is a global player in the production of industrial process additives. We are leaders in innovation and individual solutions for our customers.

Today, Schill + Seilacher is successful with six independent production sites and around 1000 employees worldwide. And the Group is also well prepared for the future: we continue to rely on solid growth with traditional values ​​and targeted investments, a high degree of research and development activities, and orientation towards market and customer requirements.

The Böblingen plant produces special chemicals for the production and finishing of man-made fibers, textiles, leather and paper. Also additives for the cosmetics industry are manufactured here.

Schill + Seilacher is again looking for trainees (w / m / d) for the professions of chemist, chemist and industrial clerk in Böblingen for the start of training in September 2020.
Today, about 1,000 employees worldwide stand behind the success of the foundation-owned Schill+Seilacher group. Traditional values and investments, guaranteed through a high degree of research and development activities, secure our dynamic growth.