ANEX & SINCE 2015 IN SHANGHAI - A SUCCESSFUL EVENT FOR SCHILL + SEILACHER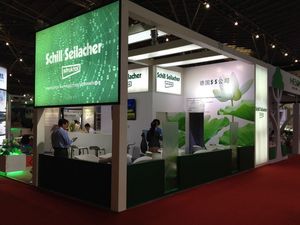 Schill + Seilacher followed its strategy to remain the leading supplier for spin finishes for nonwovens with a representive booth at the biggest fair for nonwovens in Asia. More than 15 000 visitors from 53 nations came to Shanghai to meet customers and suppliers and learn about the latest trends.
Many existing and potential customers were informed about our newly developed spin finishes at our booth. Our solutions to provide soft touch to topsheet and backsheet nonwovens for feminine hygiene products and diapers as well permanently hydrophilic properties to fibers and nonwovens with a dry skin feeling followed the most important trends of this market. Our longtime experience in the field of spin finishes for nonwovens and our global presence was well appreciated by our customers.
Today, about 1,000 employees worldwide stand behind the success of the foundation-owned Schill+Seilacher group. Traditional values and investments, guaranteed through a high degree of research and development activities, secure our dynamic growth.