ACLE SHANGHAI SEPTEMBER 2015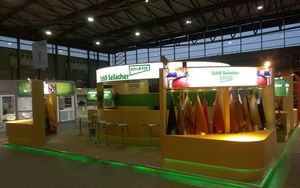 The Leather Department of Schill+Seilacher did present itself at this year's ACLE, the All China Leather Exhibition in September in Shanghai with a brand new and very representable booth. There was a tremendous interest of visitors with promising new projects that had been discussed. Main topic of course was the presentation of our long awaited latest generation of high performance fat liquors. Some of them had been developed upon specific customer requests. First orders did already arrive for our all new water proof products Perfectol TG and Perfectol W2 but also for our polymer-based fat liquors to meet the latest demands of manufacturers of automotive leathers.
Today, about 1,000 employees worldwide stand behind the success of the foundation-owned Schill+Seilacher group. Traditional values and investments, guaranteed through a high degree of research and development activities, secure our dynamic growth.