26,000 Respirator Masks for Böblingen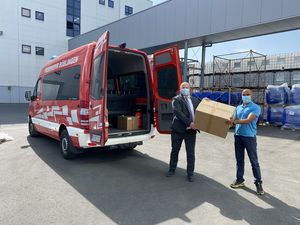 Schill+Seilacher handed over mask donation to corona delegate of Böblingen
Since at least, with the new obligation to wear masks in local traffic and shopping centers, respirator masks recently became the most requested item with regard to health protection. While lots of citizens sew homemade masks for themselves, there is a high demand of professionally manufactured masks for health care. In order to relieve this lack in doctor's practices, hospitals and special care homes the Schill + Seilacher GmbH was in the position to acquire – thanks to good business contacts to China - a large contingent of respirator masks at their own expense. A few days ago Mirco Arndt, Factory Manager of the worldwide operating chemical enterprise handed over the donation of 26,000 masks to the Corona delegate of the economic development department Böblingen, Dominic Schaudt.
25,000 medical respirator masks as well as 1,000 professional FFP2 masks were transferred to the Böblingen fire department. The deputy press officer of Böblingen, Gianluca Biela reported, that the fire department is responsible for distribution to employees of municipal institutions, as for example social services as well as citizens' center of the town hall, which should be prepared for reopening. "Furthermore, we can also provide the residential homes for elderly, if a lack of masks occurs and supply from established sources would not be sufficient."
"While the government recently supports enterprises financially with billions of Euros, we consider it is our obligation to help where possible by means of our possibilities and contacts.", sais Dr. Ruediger Ackermann, CEO of the Schill+Seilacher GmbH.
The treasured good was straightly flown in to Germany thief-proofby airfreight. Dr. Ackermann: " We are glad that our medium-sized enterprise is able to help and hope that we will have lots of followers."
The chemical enterprise Schill+Seilacher GmbH produces chemicals for production of technical textiles, leather and paper, fine chemicals and cosmetics as well as chemical fibers at the Böblingen factory with about 400 employees.
Today, about 1,000 employees worldwide stand behind the success of the foundation-owned Schill+Seilacher group. Traditional values and investments, guaranteed through a high degree of research and development activities, secure our dynamic growth.