Siegfried Röh - Verabschiedung unseres langjährigen Personalleiters und Standortleiters Hamburg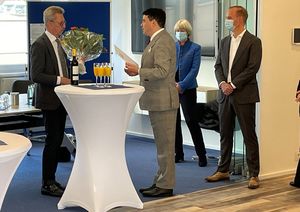 Unser langjähriger Personalleiter und seit 2020 Leiter unseres Standortes Hamburg wurde am Freitag, den 05. November 2021 von unserem CEO Herrn Dr. Rüdiger Ackermann in den wohlverdienten Ruhestand verabschiedet.
In seiner Rede würdigte Dr. Ackermann Herrn Roehs Verdienste um die Schill+Seilacher "Struktol" GmbH, Hamburg und ließ noch einmal die beruflichen
Stationen in unserem Unternehmen Revue passieren.

Belegschaft und Geschäftsleitung wünschen Herrn Roeh für seinen Ruhestand alles Gute und sagen "Danke" für seinen 33 jährigen Einsatz.
Today, about 1,000 employees worldwide stand behind the success of the foundation-owned Schill+Seilacher group. Traditional values and investments, guaranteed through a high degree of research and development activities, secure our dynamic growth.