Schill+Seilacher neuer Hauptsponsor der Dresden Monarchs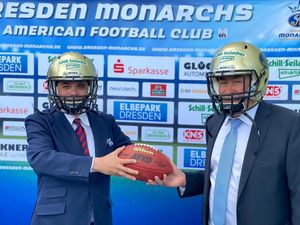 Schill+Seilacher-Unternehmensgruppe unterstützt Footballer nicht nur in der jetzigen Situation
Im Rahmen ihres Saison-KickOff stellten die Dresden Monarchs heute in Pirna ihren neuen Helmsponsor
Schill+Seilacher vor. Damit wird der Unterstützerkreis des American Football in Dresden neben der
Ostsächsischen Sparkasse Dresden, dem ELBEPARK DRESDEN und der Adrian Glöckner Automobile GmbH
um einen vierten Hauptsponsor ergänzt.
Für Schill+Seilacher ist es das allererste Sport-Sponsoring in der fast 150-jährigen Geschichte des
Unternehmens. "American Football ist im gleichen Jahrzehnt entstanden wie unser Unternehmen, deshalb
haben wir schon eine ganze Weile mit einer Partnerschaft geliebäugelt. Unser leider gerade verstorbener
Beiratsvorsitzender und Rechtsanwalt in Dresden, Uwe Wunderlich, hat uns die Mannschaft seiner
Heimatstadt ans Herz gelegt", sagt Dr. Rüdiger Ackermann, Geschäftsführer der Schill+Seilacher GmbH.
"Mit Produktionsstätten in Hamburg, Böblingen und Pirna sind wir deutschlandweit gut aufgestellt.
Darüber hinaus produzieren wir an zwei Standorten in Amerika, Heimat des Footballs an sich. Ein junger
Sport, passend für uns, da wir trotz unserer langen Historie gerne als junges Unternehmen
wahrgenommen werden wollen."
Dr. Uwe Dittrich, Werkleiter der Pirnaer Schill+Seilacher Chemie GmbH, ergänzt: "Wir kommen ähnlich wie
Football aus dem Akademie-Bereich, ein großer Teil unserer Mitarbeiter sind Akademiker. Jedes Jahr
haben wir rund zehn Auszubildende, die auch in den letzten Jahren immer übernommen wurden. So
kümmern wir uns ähnlich der Monarchs frühzeitig um den eigenen Nachwuchs."
Ganz besonders freut sich Sören Glöckner, Präsident der Dresden Monarchs, war er doch einige Jahre auf
der Suche nach einem Unternehmen, mit dem er eine langfristige Vereinbarung als Helmsponsor eingehen
wollte. "Die Schill+Seilacher-Unternehmensgruppe hat mit uns einen Vertrag über eine Laufzeit von vorerst
fünf Jahren abgeschlossen, in der aktuellen Situation ein großer Gewinn für uns als Verein", so Glöckner,
der sich auch darüber freut, dass die Mannschaft seit wenigen Tagen wieder trainiert.
In der jetzigen Situation stellt man sich im Verein oft die Frage, spielen wir die Saison? Oder spielen wir sie
nicht? Ulz Däuber, Headcoach der Dresden Monarchs e.V., geht davon aus, dass gespielt wird. "Aktuell sind
die Vertreter der ersten und zweiten Liga miteinander im Gespräch. Die Tendenz zeigt, dass man wohl ab
September in vier Viererstaffeln spielen wird, um die Spielzeit zu verkürzen. Mitte November wäre dann
der German Bowl dran", verrät Däuber. Und wo soll es hingehen? "Ganz klar, wir wollen 2020 Deutscher
Meister werden."
Trotz aller Freude waren doch skeptische Fragen hinsichtlich der Sicherheit des Sponsorings im Raum, die
aber entkräftet wurden. "Sponsoring sollte wie im Sport auf der Basis der Fairness und der Verlässlichkeit
funktionieren. Der Verein rechnet schließlich mit uns – die gesamten fünf Jahre! Außerdem wollen wir uns
doch auch in den Erfolgen des Vereins sonnen und gemeinsam den Meistertitel feiern", so Dr. Ackermann
abschließend.
Today, about 1,000 employees worldwide stand behind the success of the foundation-owned Schill+Seilacher group. Traditional values and investments, guaranteed through a high degree of research and development activities, secure our dynamic growth.