SINCE 2017 SHANGHAI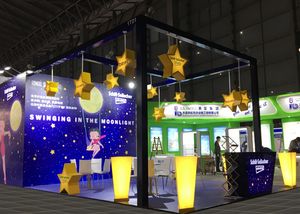 As every year, Schill and Seilacher was represented at SINCE in Shanghai. SINCE is the largest nonwoven exhibition in Asia. With 461 exhibitors and 22,218 visitors from 62 countries (China, Korea, Japan, India, Singapore, England, Germany, Belgium, Italy, Switzerland, Turkey, Brazil, etc.), there was an increase of 35% compared to the previous year.
The successful markets for hygiene, medical articles and filtration in Asia are leading to an increasing demand for nonwoven products and technologies. We were able to present our new developments for nonwovens in the hygiene sector to numerous customers and interested parties.
With our newly developed spin finishes for bico staple fibers, we were able to successfully meet the new trend in Asia for excellent softness and dry skin feel for permanently hydrophilic fibers for diapers and feminine hygiene products.
Our long-term experience in the field of spin finish for nonwovens and our global presence were particularly appreciated during our discussions.
Today, about 1,000 employees worldwide stand behind the success of the foundation-owned Schill+Seilacher group. Traditional values and investments, guaranteed through a high degree of research and development activities, secure our dynamic growth.