Pirna puts new plant in operation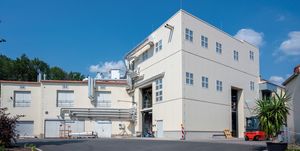 Schill + Seilacher Group has opened its new P1 plant in Pirna-Neundorf.
The construction of the multi-fuel plant became necessary as a result of a chemical accident and has state-of-the-art safety precautions to be able to rule out factory accidents in the future.
In December 2014, plant P1 exploded due to a chemical accident. One employee lost his life and four others were injured. A steel part with inscription today commemorates the disaster.
In order to be able to maintain the Pirna location and its jobs, the confidence of the residents and authorities was initially regained. Security was paramount when planning the reconstruction, with tens of millions invested in the implementation.
The innovative safety concept of the system sets new industry standards. It is suitable to prevent accidents and eruptions in general - including by means of a reinforced concrete protective cover, debris traps and automatically opening explosion flaps.
The operating concept developed especially for the chemical reactors provides for the waiver of certain substances in order to rule out dangerous reactions in the future. In addition, the reduced energy input no longer allows destructive explosive power.
The production site in Pirna, Saxony, was founded by Schill + Seilacher shortly after the reunification in 1990. The P1 multi-fuel plant is specialized in the production of additives for man-made fibers and cosmetics, colorants, flame retardant chemicals, leather impregnants, paper coatings and foam stabilizers. The planned annual production capacity of 10,500 tons corresponds to the volume of the previous plant.
You can read more about this topic in the WochenKurier.
Today, about 1,000 employees worldwide stand behind the success of the foundation-owned Schill+Seilacher group. Traditional values and investments, guaranteed through a high degree of research and development activities, secure our dynamic growth.