Delegation journey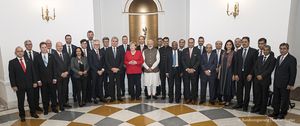 At the end of October, our managing director Dr. Ackermann joined the delegation group of Dr. Merkel to India.
At this journey, bilateral talks with various Indian industrial segments took place. The delegation's journey was of high importance for Schill+Seilacher, because the Indian market is of great economic interest for our innovative company. At Chennai in India we already hold our own office and a subsidiary enterprise already is scheduled at Mumbai and Pune to satisfy this extremely important market and to provide best possible service.
Today, about 900 employees worldwide stand behind the success of the foundation-owned Schill+Seilacher group. Traditional values and investments, guaranteed through a high degree of research and development activities, secure our dynamic growth.